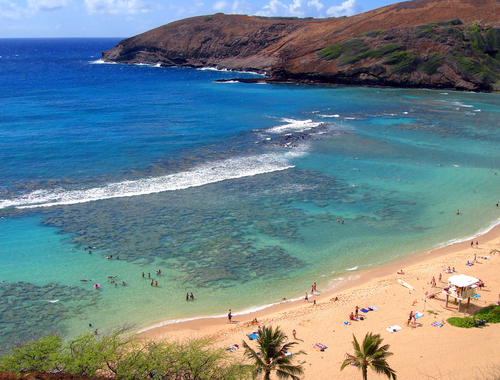 Family fun abounds in Hawaii Kai! Home to Hanauma Bay, one of the most popular snorkeling and scuba diving spots, Hawaii Kai is located in southeast Oahu and offers excellent schools, community sports, farmers' markets, ethnic dining, shopping, and plenty of outdoor activities for kids and adults. Close to metro Honolulu, the neighborhoods of Hawaii Kai appeal to those who seek a residential community but an easy drive to the workplace in town.

Custom mountain ridge homes with beautiful ocean and panoramic views are perched on Kamehame Ridge and Na Pali Haweo and the neighboring Mariner's Ridge. Nestled below and between the ridges are the homes of Kalama Valley, Mariner's Valley and Hahaione Valley. Marina homes and the luxury ocean front properties of Portlock and ocean view homes of Koko Kai afford some spectacular ocean views and sunsets, and as do the high rise condominiums at the base of Hahaione Valley.

The public education system offers three elementary, and one high school, and a variety of private pre-schools. The International Baccalaureate (IB) World program is offered at the state-funded Henry J. Kaiser High School, an IB World School since February 2010. It offers both the IB Middle Years Programme and IB Diploma Programme.

Equally pursued in Hawaii Kai are its many ethnic restaurants, including the fusion cuisine of world renowned chef, Roy Yamaguchi. His flagship endeavor, Roy's Restaurant, perched just across from the Pacific Ocean shoreline, has views of the sun setting over Diamond Head. Nearby shopping centers offer Maile's Thai Restaurant, Assagio's and Blue Water Grill that compete with the local grinds of Zippy's and Loco Moco.
Maunalua Bay provides a playground for water enthusiasts who enjoy outrigger canoes, paddle boards, parasails, jet skis, sail boats and other small watercraft. If land activities are more your style, challenge yourself by hiking Koko Head Crater or Makapu'u Lighthouse, biking "Heartbreak Hill", or golfing at the Championship Hawaii Kai Golf Course. If cruising is your passion, ride the magnificent coastline past the protected cove and marine life conservation of Hanauma Bay that leads to Sandy Beach. For a romantic evening, park at Sandy Beach and fall in love under the incredible full moon over the Pacific.